NANOSENSORS™ today announced the Q30K-Plus, a novel scanning proximity probe with an outstanding Q-factor and an enhanced signal to noise ratio for UHV applications.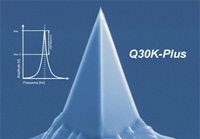 Based on the well-known PointProbe® Plus AFM probe NANOSENSORS™ has developed the Q30K-Plus SPM-probe series especially for UHV applications. For high sensitivity and a good signal to noise ratio the new probes are featuring a Q-factor of over 30,000 (up to 50,000) under UHV conditions and a high reflectivity (even at wavelength of over 800 nm).
In addition to the enhanced Q-factor and the optimized signal to noise ratio the Q30K-Plus series offers all features of the PointProbe® plus series like a minimized variation in tip shape and a typical tip radius of less than 7 nm.
The first product of the new Q30K-Plus line will be commercially available starting January 2006 in the following versions:
PPP-QFMR and PPP-QNCHR. Other types for different operation modes and different tip shapes are being developed.